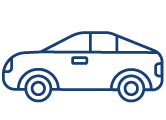 AUTO INSURANCE INDIANA
Switch and save on car insurance
Save on Indiana car insurance with Magnum Insurance
Find the right car insurance in Indiana with Magnum Insurance. Join the Magnum Family and experience why we're one of the best insurance companies. From affordable insurance coverage to superior customer service, our people and technology support you every step of the way.
With so many people on the road, driving can be unpredictable. That's why it's important to have quality car insurance in Indiana with Magnum Insurance. Magnum makes it easy to get an affordable car insurance coverage. Get an auto insurance quote for Indiana online today.
Indiana car insurance coverage requirements
Indiana drivers need to make sure that their car insurance policy meets the minimum coverage requirements for the state of Illinois. Minimum auto coverage requirements for Indiana include:
$25,000 of bodily injury coverage per person
$50,000 of bodily injury coverage per incident
$25,000 of property damage coverage per incident
SR22 Insurance in Indiana
We know that purchasing and maintaining an SR22 is not easy. At Magnum Insurance, we take your SR22 insurance seriously which is why we provide instant quotes and coverage that gets sent electronically to the Secretary of State.
Get an instant Indiana SR22 insurance filing today with Magnum Insurance by quoting and buying online or talking to a certified local agent in East Chicago, IN. Our agents will shop and compare the best car insurance price for free and then file your SR22 certificate electronically the same day so you can get back on the road.
Get a free auto Insurance quote today
Quote and buy car insurance online today with Magnum Insurance. Or talk to one of our certified local agents.
Is there an Indiana Insurance Agent Near Me?
Try our Location Finder to find the nearest agent near you.