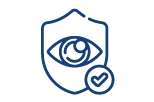 VISION INSURANCE
Get a free vision insurance quote
Save on vision insurance with Magnum Insurance
If you're looking for a vision insurance policy, Magnum Insurance has you covered. Our certified independent agents will shop and compare offers for affordable vision insurance options.
Call an agent today to get a free vision insurance quote and see how affordable peace of mind can be.
How much does vision insurance cost?
The cost of vision insurance can vary based on your needs. Your life is unique and Magnum Insurance can help you get an insurance policy with the right coverage at a great price whether you need medical, dental, or vision insurance.
What does vision insurance cover?
Vision insurance typically covers preventative eye care, including eye exams and prescription eyewear. Some plans may also offer discounts for elective vision correction surgery. If you're looking for a particular type of coverage, talk to a certified agent.
Magnum Insurance makes vision insurance easy
Insurance should be easy. And now it is. Get your online insurance done at your convenience
Auto extended warranty
Protect your car with a reliable and affordable coverage solution for those unexpected expensive repairs.
Get our mobile app
Manage your policy. File and track a claim. Do it all with a few taps on your smartphone.
Get a free vision insurance quote today
Get the Vision insurance you need with Magnum Insurance. Talk to an agent today by giving us a call or visiting one of our offices located across Illinois and Indiana.
Is there a local vision insurance agent near me?
Try our Location Finder to find the nearest agent near you